Innovation is everything. Laser skin therapies have changed everything we know about restoring and maintaining a youthful appearance in the last 10 years. We proudly operate Inmode Optimas laser technologies, which provides professional-grade aesthetic procedures, equipped with intense pulsed light, laser and treatment of skin discoloration. Our team undergoes hours rigorous training to provide arguably the best Lumecca IPL Therapy photofacial and laser skin rejuvenation in New York City.
Don't you want to say "I woke up like this" again? It doesn't get much hotter than this celeb-fave laser treatment. Lumecca IPL by InMode is our choice to provide a safe, non-surgical treatment using the most powerful intense pulsed light (IPL) device to treat common skin blemishes and irregularities.
By selectively targeting affected areas, the Lumecca IPL system can treat skin pigmentation, vascular lesions, skin texture irregularities, and sun damage. At the same time, your body will begin to regenerate priceless collagen and plump your skin and eliminate some fine lines for a youthful, fresh appearance.
Bring on the Beauty.
Lumecca IPL is an ideal treatment for skin care concerns ranging from redness, light acne scars and rosacea, to broken capillaries and hyper pigmentation. It involves a non-ablative laser that has been carefully calibrated to seek out specific pigments in the skin – redness, darker discolored patches or dark spots from acne scarring. This advanced laser skin resurfacing treatment can:
Repair small blood vessels
Eradicate sun spots or skin irregularities
Combat acne and eliminate large pores
Treat rosacea or redness in the skin
Stimulate collagen and improve skin texture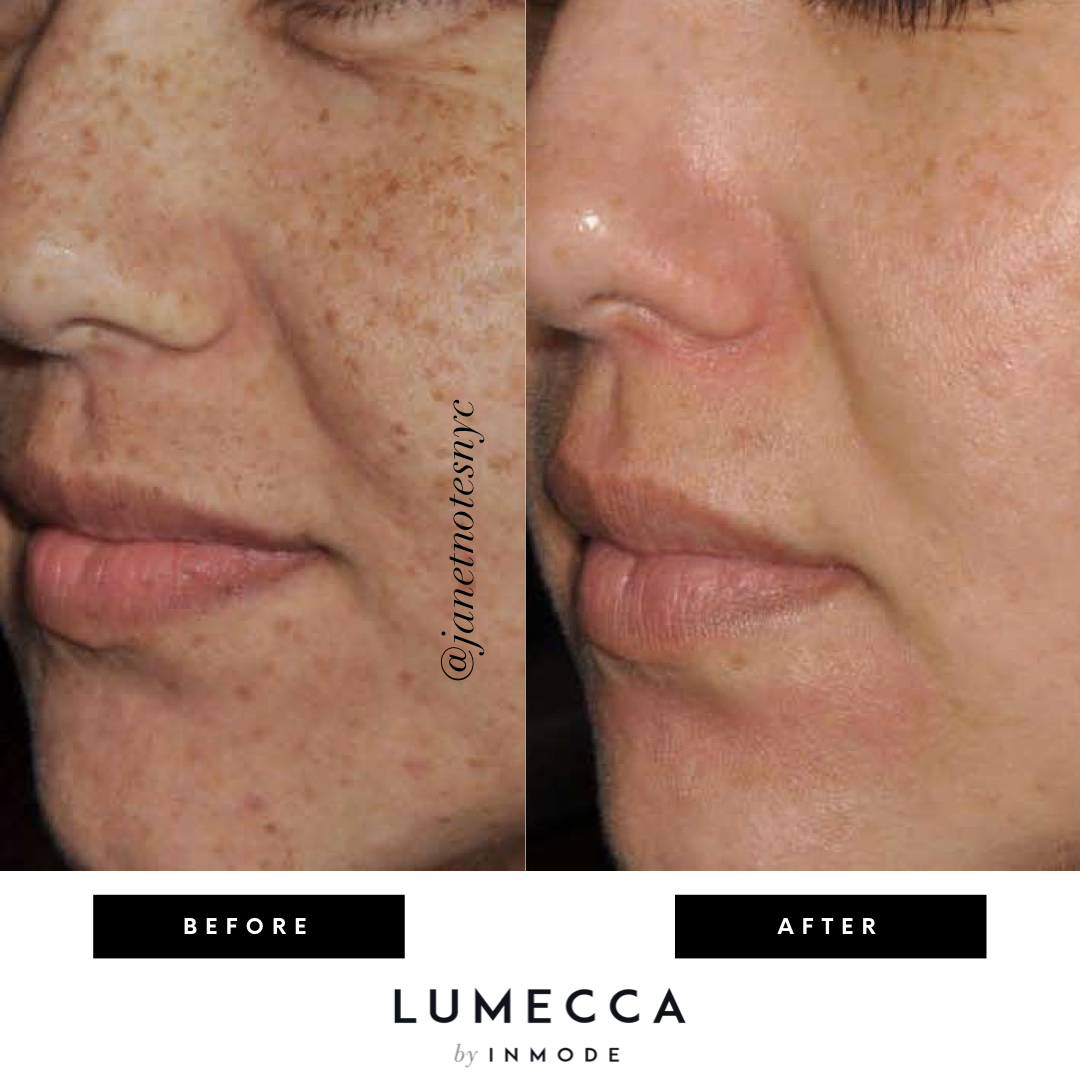 What Sets Lumecca Apart:
Lumecca intense pulsed light (IPL) delivers up to 3X more energy in the 500-600 nm range to improve efficacy for vascular and pigmented lesions. This means that our clinicians can safely treat a variety of lesions with fewer sessions, saving you time and money.
High efficiency of treatment due to high peak power and optimized output.
Complete photo rejuvenation in 1 or 2 treatments for most patients versus 4-6 treatments with standard IPL's.
Reduces treatment time thanks to large spot size and high pulse repetition rate.
Strong sapphire cooling tip results in higher treatment comfort level.
Post-Treatment Notes:
After treatment, redness and a slight warming of the skin are normal. These usually subside within an hour or two. Over the next 24-48 hours you may see a darkening of pigmented spots; in the week afterwards the pigmented lesions flake off, leading to an evening out of skin tone.
After treating vascular lesions you may see the vein blanch and disappear or a color change in the vessel which dissipates after a few days. If for whatever reason you have any concerns, please reach out at any time.
Safety First:
With a 100% "Worth It" Rating on Realself.com, Lumecca stands apart from other IPL therapies. Lumecca IPL is cleared for use on skin types I - IV and has been utilized by clinicians to treat thousands of people in the U.S. alone. Lumecca is optimized for light to dark skin tones, thus making IPL therapies available to a larger audience than ever before.
Lumecca side effects are rare, with most skin reactions subsiding within a few hours after treatment.
Schedule a consultation with one of our aesthetic professionals to see if you are a candidate for Lumecca IPL.
The Science Behind the Treatment:
"Peak Power Effect On Skin Rejuvenation Using Ipl: Lumecca Ipl Evaluation"
Author: E. V. Ross MD; and Michael Kreindel, PhD
Technology: Lumecca
Published Date: 

May 2016

Publication: Advances in Aging Research

"Facial Skin Rejuvenation By Combination Treatment of IPL Followed By Continuous and Fractional Radiofrequency"
Author: Michael H. Gold, MD; Julie A. Biron, BSc; and Whitney Sensing, LPN
Technology: Fractora, Lumecca, Forma
Published Date: June 2015
Publication: Journal of Cosmetic and Laser Therapy